Product Information

DOUGLASS (Made in Japan)
The Revival of a Fancy Masterpiece in Japan
The Douglass lighter is a masterpiece which is a rebirth of American creativity matched with Japanese craftsmanship, technical skill and knowhow.
History
~A lighter refused to match the transition of time~
The Douglass lighter, made in 1926 in America, is a product that is still probably unknown to many people today. That is because the brand has regrettably expired with the passing of history, which is quite different to famous brands which have been ticking a long time in history.
However, as is the way of the world, a masterpiece does not always make history, and the Douglass lighter has been forgotten today, even though it was made with a high degree of skill and quality.
In those days, the Douglass lighter cost $5 which was surprisingly expensive at this time, compared to other lighters which were priced at only 69¢in the same catalogue. It can be said that this reflected the status of its owner.
By analyzing the original Douglass lighter, we found out that most of the hidden skills in producing it, actually render it unable to be mass produced, even by today's standards because it was a product of pure craftsmanship.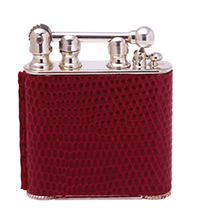 SPECIFICATION
Chicago
RETAIL PRICE
\20,000
JAN
4902006844052
SINGLE SIZE・WEIGHT
45.4×10.9×52.2mm
66g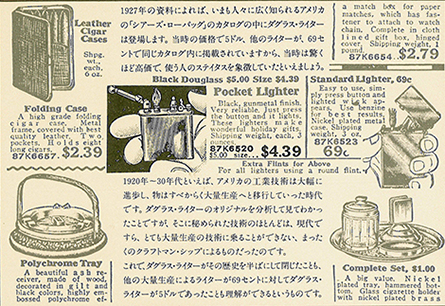 DOUGLASS STUDIO FIELD S LIGHTER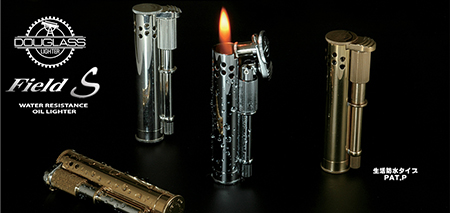 The big feature of this lighter is its toughness of completion despite it being a precise instrument. This lighter is a combination of 45 parts all calculated within a 1/100 millimeter tolerance. It is designed to be durable and waterproof.
Also, the wick and the body are surrounded by an integrated wind guard to make it wind resistant. In addition, a new technology to the lighter is the adoption of a plate spring that is not used in the file.
DOUGLASS FIELD S PLUS LIGHTER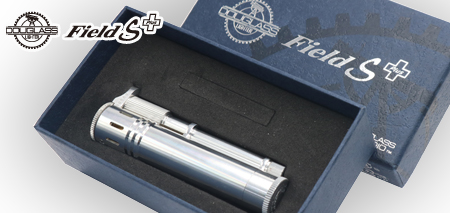 Successor model of DOUGLASS Field S
Flint in different sizes are available.・Patent pending・Flint diameter up to 3 mm are available.・Main oil tank is removable.・Natural evaporation of oil is small during storage.
Release day: May 29, 2023
DOUGLASS FIELD L LIGHTER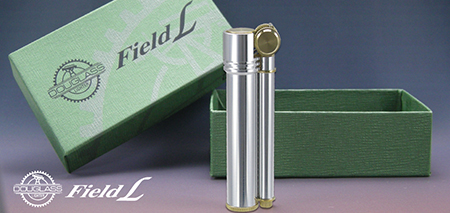 A high quality model made of the pure combination of metal, a peculiar atmosphere, and the succession of the Douglass craftsmanship's DNA.
NEO by Douglass